Income Taxation of Estates and Beneficiaries – Tax Issues We Leave Behind
This program was recorded live on Tuesday, October 24, 2017
You have one year from airing date to use this course as credit.
Purchase CPE Credits Now!
You must Log In or Register to view the Program, Resources, or Transcripts. Watch a preview below.
Continuing Education
CPE Program Knowledge Level: Overview
2 CPE Credit; NO prerequisites or advance preparation
CTEC Course #: 3022-CE-0119
IRS/RPO Approved Program
#7ZBUJ-T-00060-17-O (Online/Group) Live (Group-Internet Based)
#7ZBUJ-T-00060-17-S (QAS Self Study) Archive
Federal Tax Law (2 Hours)

Program Content
This online learning program, presented as a live webcast, will be also archived for QAS Self Study. The program will be available for viewing for 12 months after the live webcast. A panel of IRS and industry experts will present the content during a live, interactive discussion, where participant questions can be submitted. Questions will be answered live on the program or posted on the Resources page. Former Director of Internal Communications for the IRS, Les Witmer, moderates the program.
The program, through a lively round-table discussion and real time interaction with the audience, looks at the income tax issues that remain following the death of a taxpayer. The program will examine the effect of a death in the family on Form 1040 and the filing of a decedent's final tax return. Panelists also will discuss the concept of an individual's estate as a separate taxable entity, including the calculation of an estate's income and deductions, and the required filing of a fiduciary tax return and accompanying schedules K-1. The panel also will take up how beneficiaries of a decedent are treated when they receive various assets from a decedent and distributions of money or property in the course of an estate's administration.
Program Learning Objectives
Identify the stand-alone form that requires a signature, even though it can be filed with the Form 1040.
Identify the most common type of income for estates.
Identify the form that captures deductions such as executor or fiduciary fees.
Identify the exemption in the amount for estates.
Program Outline
Effect of Death on Form 1040

Personal or dependency exemptions
Joint return with deceased spouse
Surviving spouse
Effect of survivor's remarriage



A Decedent's Final Return

Who files?
Due date
Treatment of income
Treatment of deductions
Recipients of decedent's income
Deduction for estate taxes



Decedent's Estate as Taxable Entity

The fiduciary return - Form 1041 and Schedule K-1
Who files?
Accounting period
Payment of tax and estimated tax
Net investment income tax



Income of an Estate

Gross income
Income from real estate
Income from personal property
Sale of property
Gain on transfers to beneficiaries
Foreign estates



Estate's Deductions and Credits

Generally
Personal exemption
Expense deductions
Losses and bad debts
Charitable deduction
Tax credits



Estate Distribution Deduction

Distributable net income (DNI) limit
Required distributions
Allocation of income types and related deductions
Distributions after end of tax year



Treatment of Beneficiaries

Receipt of estate distributions
Basis of inherited property
Insurance and annuities
Retirement plan benefits
Spousal rollovers
Inherited IRAs
Employee death benefits
Panelists
Moderator

Les Witmer, APR
Communications Consultant
Les Witmer has served as the moderator for Tax Talk Today since 2001. He is a Communications Consultant in Atlanta. He retired after a distinguished career of 34 years with the Federal Government serving the last 23 years with the Internal Revenue Service. He held various positions with the IRS in Communications and Taxpayer Information and retired during the stand-up of the Wage and Investment Division as the Director of Communications. He also was periodically assigned by the U.S. Treasury Department to the Office of Economic Cooperation and Development (OECD) to be a member of an international team that advised and conducted seminars on Taxpayer Information and Customer Service programs to tax and ministry of finance officials from Russia and other Eastern European Countries. Preceding IRS, he served on active duty with the U.S. Army including as an infantry officer in Vietnam. He had other active duty and reserve assignments culminating with being activated during Desert Storm. He retired as a Lieutenant Colonel. He holds a B.S. in Journalism from the University of Southern Mississippi and an M.S. in Public Administration from the American University.
IRS Panelist

M Preston Chandler
Program Manager, Abusive Transactions
Small Business / Self-Employed, Examination Quality & Technical Support
Indianapolis, IN
M Preston Chandler is currently the Program Manager for Abusive Transactions in the Headquarters Examination operation, Small Business/Self-Employed Operating Division.  Mr. Chandler has worked extensively with trust and fiduciary income tax from 1997 through 2009, serving as the national trust coordinator from 2009 through 2015. In his current position, Mr. Chandler provides oversight, guidance, and technical support to examiners regarding trust and fiduciary returns.
Mr. Chandler is an attorney and has been with the Internal Revenue Service since February of 1984.
Industry Panelists

Chris Hardy, EA, CFP®, ChFC®, CLU®
Chris Hardy is the owner and Managing Director of Paramount Tax and Accounting, LLC, a tax planning, preparation and representation firm based in Metro Atlanta. He also is the owner and Director of Planning and Investments for Paramount Investment Advisors, Inc., a comprehensive fee-only, financial planning and wealth management firm. He holds a Bachelor of Science in Business from Lee University in Cleveland, TN and continued his education by earning additional specialty designations including the Certified Financial Planner (CFP®), enrolled agent, Chartered Financial Consultant (ChFC) and Chartered Life Underwriter (CLU). Chris is also a fellow of the National Association of Enrolled Agents' National Tax Practice Institute™ program.
Chris is an active nationally as a speaker at many industry associations events and educational institutions on topics ranging from tax compliance to investment management. His expertise has been relied upon for articles in The Wall Street Journal, Forbes, CNBC.com as well as many others. He also is a regular contributor to the educational websites NerdWallet and Investopedia.
Chris currently serves as the President of the Georgia Association of Enrolled Agents, Secretary of the Financial Planning Association of Georgia and as Treasurer of the Southern Region of the National Association of Personal Financial Advisors (NAPFA).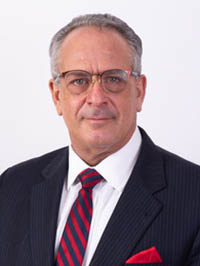 Alan Pinck, EA
Pinck & Associates
Alan Pinck is an Enrolled Agent with over 25 years of tax preparation experience in the San Francisco Bay Area. He has built a practice specializing in individual, small business tax preparation and audit representation. He is currently chair of the NAEA Education Committee, Chair for the NAEA Education Foundation and a speaker at the NTPI events, CSEA Super Seminar as well as a variety of other presentations for tax groups and small business associations. Having represented thousands of tax returns in audit, Alan has obtained tremendous insight of the audit process as well as knowledge on a wide variety of tax issues.
Content Consultant

David F. Windish, J.D., LL.M
Content Consultant
David F. Windish, J.D., LL.M. in taxation, is a tax attorney and consultant. He has served as an instructor of tax-advantaged investments at the New York Institute of Finance; an Instructor of business law at the U.S. Merchant Marine Academy, Kings Point, N.Y.; and an adjunct professor at George Mason University, Fairfax, Va. He has also served as executive editor for Tax Analysts; managing editor for Business Strategies, published by CCH; and senior editor for the Institute for Business Planning.
Mr. Windish is the author of Practical Guide to Real Estate Taxation, published by CCH and currently going into its sixth edition. Earlier works include Tax Advantaged Investments and Investor's Guide to Limited Partnerships, both published by the New York Institute of Finance. Through the Center for Video Education, he authored continuing education courses dealing with real estate and closely held corporations. Those courses included readings, case studies, and videotape segments.
Mr. Windish is a graduate of Rutgers University Law School and the New York University School of Law, Graduate Division. He has been heard as a guest speaker at professional meetings and seminars and on popular radio programs.